Studying at ULB
Bachelor in Dentistry
Bachelor in Dentistry
This formation is taught in french.
Accéder aux sections de la fiche
Call to actions
Programme title

Bachelor in Dentistry

Programme mnemonic

BA-DENT

Programme organised by

Degree type

Bachelors

Tier

1th cycle

Field and branch of study

Health/Dental sciences

Schedule type

Languages of instruction

french

Theoretical programme duration

3 years

Campus

Erasme

Category / Topic

Health - Dental sciences

Jury President

Stéphane LOURYAN (unit 1), Astrid VANDEN ABBEELE (units 2 and 3)

Jury Secretary

Laurence LADRIERE (unit 1), Thierry CHARLES (units 2 and 3)
Details
General information
Degree type
Bacheliers
Theoretical programme duration
3 years
Learning language(s)
french
Schedule type
Daytime
Campus
Erasme
Category(ies) - Topic(s)
Health - Dental sciences
Organising faculty(s) and university(ies)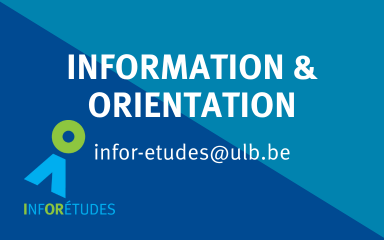 Student support
remediation during the first unit
Succeed in your studies
ULB offers a number of activities and resources that can help you develop a successful strategy before or during your studies.
You can make the transition to higher education easier by attending preparatory courses, summer classes, and information and orientation sessions, even before you start your studies at ULB.
During your studies, many people at ULB are there specifically to help you succeed: support staff in each faculty, (inter-)faculty guidance counsellors, tutors, and experts in academic methodology.
Presentation
Fulfil your ambitions by working as a dental surgeon in a hospital or private surgery, by specialising in child dental care or in other areas, such orthodontology or periodontology.
theoretical courses, practical exercises
During your studies you will develop your powers of critical analysis and human qualities, especially through frequent contact with patients and other medical staff. As well as acquiring technical and scientific skills you will develop your powers of reflection and judgment.
You will have at your disposal an exceptional location comprising an ultra modern, high-performance hospital surrounded by classrooms, laboratories and a library.
You will also be able to do a wide range of work placements thanks to the hospital network that is in place.
During your studies you will have the opportunity to take part in university exchange programmes. As well as the possibility of taking part in the Erasmus programme, other types of work placements are also on offer, especially in third world countries.
What's next ?
Prospects
If you go to do a Master in Dental Sciences, you will be able to work in the following fields :
Dentistry, within your field of specialisation (general dentistry, orthodontics, periodontics)

Any other post in the health sector requiring a scientific grounding
If you wish to do a different master's, the following areas are open to you:
Biomedical Sciences

Public Health

Useful information
Despite the measures taken to limit access to the profession, if you are determined and if you have the requisite qualities and the vocation, you will always find a way of making a career in dentistry.
non professionalizing bachelor