Studying at ULB
Bachelor in Geography : General
Bachelor in Geography : General
This formation is taught in french.
The 2020-2021 programme is subject to change. It is provided for information purposes only.
Accéder aux sections de la fiche
Call to actions
Programme title

Bachelor in Geography : General

Programme mnemonic

BA-GEOG

Programme organised by

Degree type

Bachelors

Tier

1th cycle

Field and branch of study

Sciences and technics/Sciences

Schedule type

Languages of instruction

french

Theoretical programme duration

3 years

Campus

Plaine/Solbosch

Category / Topic

Sciences and technics - Sciences

Jury President

Jean-Michel DECROLY

Jury Secretary

Frank PATTYN
Contact e-mail

Contact telephone

Additional information
Details
General information
Degree type
Bacheliers
Theoretical programme duration
3 years
Learning language(s)
french
Schedule type
Daytime
Campus
Plaine/Solbosch
Category(ies) - Topic(s)
Sciences and technics - Sciences
Organising faculty(s) and university(ies)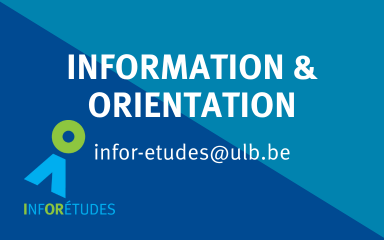 Succeed in your studies
ULB offers a number of activities and resources that can help you develop a successful strategy before or during your studies.
You can make the transition to higher education easier by attending preparatory courses, summer classes, and information and orientation sessions, even before you start your studies at ULB.
During your studies, many people at ULB are there specifically to help you succeed: support staff in each faculty, (inter-)faculty guidance counsellors, tutors, and experts in academic methodology.
Presentation
The Bachelor in Geography offers a strong training in exact sciences (physics, mathematics, chemistry, statistics..), natural sciences (biology, botanic, geology,…) and human sciences (history, economy, sociology,…), spread across the 3 years, and covering both tools and basic knowledge for the analysis of spatial distribution of various phenomenons and interactions between Man and the Environment. From the very first year, the learning process addresses both Human and Physical Geography lectures and also Geomatics. Physical Geography topics deal with the structural build up of territories and their evolution under climatic forcings. Human Geography proposes interpretation schemes to the spatial distribution of men and their activities at various scales (from town to continent) across the world.
To support these analyses, methodological lectures and practical works introduce the mandatory tools for the Geographer, from the reading and critical interpretation of maps to its own conception of maps and indicators, through mastering of geographical data and geographical information systems. From the second annual "bloc", the student will be able to approach more specific topics, while choosing a preferred orientation in Environmental Sciences or in Social Sciences.
Holistic approach combining physical and social sciences to understand the Interactions between Man and its Environment

Specific Geographical teaching from the very first year

Focus on practical work
During the year you will be in close contact with the teaching staff and the teaching assistant, due to the relatively small size of the groupss

Geography topics will be accessible from the very beginning of the cursus

Access to multiple facilities such as:

Laboratories

Dedicated Libraries

Two computer rooms equipped with PC's, and access to the larger facilities of the Faculty

A "cartotheque" with atlas, old and new topographic and thematic maps, aerial photography…

Pleasant social life in Brussels, the administrative heart of Europe
Mobility programs are primarily developed within the Master programs. They should however be planned in the course of the Bloc 3 of the Bachelor program.
Generally, assistants and professors answer the students questions, depending on the group sizes and the teaching methodology, during and in-between lectures, during practical work, during fixed interview periods, or, if necessary on specific appointments.
In Bloc 1, guidances are organized in Mathematics, Physics and Chemistry where an assistant answers the question of the students. Some professors/assistants provide exercises books, with answers.
The "in-lecture" notes taking is supported by access to internet syllabi, or, if not, to the lecture slides. Reference books are available in the dedicated libraries.
What's next ?
Prospects
Extending a Batchelor in Geographical Sciences to a Master in Geographical Sciences, will give the candidates access to jobs dealing with the management of territories, including urban and country planning, environnemental planning, geomatics and geomarketing. They will be able to answer specific questions such as:
Where toset up a new company, a new head office, a new infrastructure?

What activities are suitable for a given territory?

How to map the territory and its evolution using aerial and satellite imagery (teledetection)?

How to reconcile landscape or heritage preservation with (sustainable) development?

How to protect sensitive natural territories?
Extending a Batchelor in Geographical Sciences with a Master in Environmental Sciences and Management, will give the candidates the opportunity to join the various national and international research programs that aim at reducing the uncertainties in our abilities to predict the future impact of Humanity on our planet. It will also allow them to actively contribute in developing sustainable development solutions at all spatial scales within the society.
The training of the bachelor in Geography is based on the idea that its essence is at the hinge of natural and social sciences. Based on this basic concept, the student develops, from the very first year, analytical competences and expertise in geographical representation of territories. This knowledge base can be mobilized at various spatial scales, from local to worldwide, in a serious of activity domains dealing with interactions between Man and the Environment or interactions between territories. The strong scientific background of geographers makes them good, polyvalent and prized candidates wherever action requires an understanding of multiple phenomenons (natural and social) at play in a given territory, together with the capacity of analyzing these systems in all their complexity. Geographers therefore often act as a link between various sciences and the interests of the Society, proposing a synthesis in a given spatial context.
Most of the teaching units specific to the discipline addressing groups of small size, the training includes practical work, excursions (including several days in Switzerland or in Belgium in 2nd and 3rd blocs), fieldwork, personal and group work, but also strong and regular interactions between students, assistants and professors. In the course of his/her studies, the student will have access to computer programs specialized in the treatment of geographical data sets (GIS) and also dedicated libraries, map collections and atlas (carthoteque).