Studying at ULB
Master in History of Art and Archaeology : General
Master in History of Art and Archaeology : General
This formation is taught in french.
The 2020-2021 programme is subject to change. It is provided for information purposes only.
Accéder aux sections de la fiche
Call to actions
Programme title

Master in History of Art and Archaeology : General

Programme mnemonic

MA-HHAAR

Programme organised by

Faculty of Philosophy and Social Sciences

Degree type

Masters 120 credits

Tier

2nd cycle

Field and branch of study

Human and social sciences/History, history of art, and archaeology

Schedule type

Languages of instruction

french

Theoretical programme duration

2 years

Campus

Solbosch

Category / Topic

Human and social sciences - History, history of art, and archaeology

Jury President

Athéna TSINGARIDA

Jury Secretary

Laurent THOLBECQ
Contact e-mail

Contact telephone

Additional information
Details
General information
Degree type
Masters 120 crédits
Theoretical programme duration
2 years
Learning language(s)
french
Schedule type
Daytime
Campus
Solbosch
Category(ies) - Topic(s)
Human and social sciences - History, history of art, and archaeology
Organising faculty(s) and university(ies)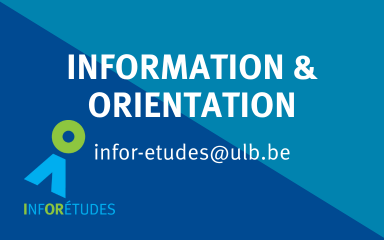 Succeed in your studies
ULB offers a number of activities and resources that can help you develop a successful strategy before or during your studies.
You can make the transition to higher education easier by attending preparatory courses, summer classes, and information and orientation sessions, even before you start your studies at ULB.
During your studies, many people at ULB are there specifically to help you succeed: support staff in each faculty, (inter-)faculty guidance counsellors, tutors, and experts in academic methodology.
Presentation
This programme helps students understand, explain, interpret, and put to use the major artistic trends and the many different facets of tangible culture produced by the human race. With a strong grounding in practice (visits, work placements in museums, excavation sites, conservation and restoration of works of art, etc.), direct contact with objects, images, and buildings, and through individual work, the programme develops the students' independence and expertise. Another goal of the Master in Archaeology and Art History is to provide students with advanced knowledge in a specific field of study, covering all periods and a large part of the world: Prehistory / Protohistory; Antiquity; the Middle Ages / Renaissance / Modern Times; Contemporary Art; Ancient America and Asia; Africa.
Students will gain more specific skills in choosing one of the four specialisations offered:
The didactic specialisation prepares students for teaching in general and art in particular. It also aims at developing skills in reasoning and communicating knowledge, sought in many other sectors;

The Applied Archaeology specialisation prepares students for professional practice through work placements in museums, galleries and excavation sites;

The Visual Arts and Image Analysis specialisation deepens students' training in interpreting images, taking into account their historical context;

The Museums and Conservation of Movable Heritage specialisation gives students a deep insight into the theoretical, ethical and practical issues associated with the conservation of a country's movable heritage and its management in museums.
With contributions from other fields of human sciences and pure sciences, it provides graduates with a qualification demonstrating their ability to tackle the many tasks arising from the need to update, analyse and interpret mankind's heritage.
This Master is the only one of its kind in the French-speaking region of Belgium. This is due to a number of factors:
the diverse range of periods and geographical areas studied;

the adaptable and in-depth nature of the skills developed in the fields of art and archaeology;

the wide range and high renown of the archaeological sites managed by the department's archaeologists, and to which students are directly associated;

the active collaboration between ULB and major museums in Brussels, in the French-speaking community of Belgium, and in Europe, enabling students to familiarise themselves with the challenges related to conserving a country's heritage.
The practical aspects of the course are emphasized, both in archaeology or in "museumology", and in terms of expertise and conservation-restoration of works of art. In Belgium and in several foreign countries, the ULB is conducting archaeological excavations (Spain, Italy, Greece, Syria, Egypt and Peru) and ethno-archaeological research (Niger). These missions provide students with work placement opportunities of great interest. The staff also maintain close contacts with several museums and research laboratories in Belgium and abroad.
The ULB is also ideally located in a town packed full of libraries, museums, cinemas, cultural centres, and exhibition and conference halls.
Programme
Much of the curriculum is devoted to personal projects (seminars, work placements, dissertation) and direct contacts with objects, images, or constructions, building on the skills acquired during the Bachelor.
Five focuses are available for the Master in Archaeology and Art History:
the teaching focus prepares students to work as teachers—including as art teachers—, developing skills that promote teaching such as argumentation and knowledge sharing;

the practical focus on archaeology prepares students to work in a professional setting, with work placements in museums, art galleries, and excavation sites;

the focus on art and visual culture develops the students' ability to interpret images and take into account the historical context in which they were created;

the focus on museums and movable heritage conservation trains students on theoretical, ethical, and practical issues related to the conservation of movable heritage and its management in museums. It teaches students to fulfil the various tasks involved in updating, analysing, and conserving tangible heritage;

the European focus on archaeology and pre-Colombian art completes the curriculum of students who chose the elective on American studies, with a six-month exchange period (see 'International' section).
What's next ?
Prospects
As a multi-purpose and practical programme, this Master can lead to a number of careers, whether in fields directly related to art and architecture or in other industries, such as museums, heritage restoration and conservation, art galleries, excavation sites, cultural departments within companies or ministries, secondary or post-secondary teaching, associations, and socio-cultural organisations.