Studying at ULB

droit
Master in Law
Master in Law
Accéder aux sections de la fiche
Call to actions
Programme title

Master in Law

Programme mnemonic

MA-DROI

Programme organised by

Faculty of Law and Criminology

Degree type

Master 120 credits

Tier

2nd cycle

Field and branch of study

Human and social sciences/Law

Schedule type

Languages of instruction

french

Theoretical programme duration

2 years

Campus

Solbosch

Category / Topic

Legal sciences - Law

Jury Presidents

Michèle GREGOIRE and Arnaud NUYTS

Jury Secretaries

Emmanuel SLAUTSKY and Chiara ARMENI
Details
General information
Degree type
Master 120 credits
Theoretical programme duration
2 years
Learning language(s)
french
Schedule type
Daytime
Campus
Solbosch
Category(ies) - Topic(s)
Legal sciences - Law
Organising faculty(s) and university(ies)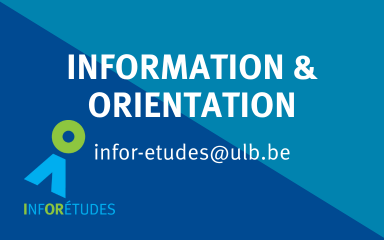 Succeed in your studies
ULB offers a number of activities and resources that can help you develop a successful strategy before or during your studies.
You can make the transition to higher education easier by attending preparatory courses, summer classes, and information and orientation sessions, even before you start your studies at ULB.
During your studies, many people at ULB are there specifically to help you succeed: support staff in each faculty, (inter-)faculty guidance counsellors, tutors, and experts in academic methodology.
Presentation
The two blocs of Master in law have the following objectives:
to study the branches of law not taught in Bachelor's degree (international law, tax law, etc.);

to consolidate and specialize the knowledge acquired in Bachelor's degree;

to make students autonomous, adaptable to complex legal situations and capable of producing new or original knowledge.
The Master's degree in law combines ex cathedra courses (mostly accompanied by practical work sessions), interactive seminars (case courses, discussion of texts, mock trials, etc.) and personal research by students.
The Master's degree in law of the ULB combines rigorous learning, in-depth study of concrete and complex legal issues, the contribution of renowned teachers including many practitioners, while putting into perspective the knowledge and skills acquired by courses which offer a critical look at law (eg. Law Theory, Anthropology of Law, Philosophy of Law, Sociology of Law, etc).
Strengths of the ULB Masters in Law:
three specialized purposes in line with the practice of law;

a program favouring the free choice of the student;

courses given in English (in whole or in part);

a wide range of optional courses, including courses at the VUB in Dutch or English;

Nearly fifty-three Erasmus destinations (both within and outside Europe, including China);

the possibility of completing an introductory internship to practice law in a professional setting or at one of the Faculty's research centres;

a large number of teachers with practical experience;

support from the Law Student Office;

the rich collections of the law library.
ULB's Faculty of Law and Criminology is open to the outside world, as evidenced by the numerous international exchanges of students and teachers, by the richness of its teaching in comparative law and international and European law, as well as by its close and fruitful collaboration with the Faculty of Law of the VUB.
Students in the second block of master's programmes have the possibility to study for a four-month period in a partner university, European or not (currently, about fifty-three Erasmus destinations are offered in and outside Europe, including China). In most cases, they will have to take their law courses in a foreign language. Successful completion of these courses will then be rewarded as part of their graduation.
Students have the possibility to follow courses in English as part of the Master's programme (in particular the "Public International Law" course in block 1 as well as optional courses taught in English in whole or in part). They can also take courses in English at the VUB in Dutch or English at the Campus de la Plaine.
Possibility of completing an introductory internship in the practice of law in a professional setting or at one of the Faculty's research centres.
A large number of teachers which are at the same time law practitioners.
Programme
Students of the Master in Law are invited to choose one of the following orientations: Civil and criminal law, Economic and social law, Public and international law.
The civil and criminal law orientation is designed for students wishing to become a generalist lawyer. Students following this orientation will acquire knowledge focusing on litigation of a civil, family or criminal nature, involving individuals.
The economic and social law orientation is destined for students wishing to acquire competences focusing on business law in all its aspects: labour law, corporate law, corporate criminal law etc.
The Public and International Law orientation is intended for students attracted by national or international public law and in particular by the practice of administrative and constitutional litigation, civil service, ministerial offices or by an international career.
Each orientation also offers courses in research and writing methodology (2 per orientation) as well as legal argumentation seminars (3 per orientation), in a plurality of legal fields.
The program offers to students a wide choice of optional courses from two lists.
A first list of optional courses is specific to each orientation.
A second list of optional courses common to all orientations. This second list includes a series of legal courses at the VUB in Dutch or English.
In order to guide the students in their choice as best as possible, examples of typical programs are offered for information to the students.
At the end of their studies, students must write and defend a final dissertation.
What's next ?
Prospects
The Master's degree in law leads in particular to the following professions:
lawyer,

magistrate,

corporate lawyer (banking, insurance, consulting),

legal counsel in a union or association,

bailiff,

notary (subject to successful completion of the master's degree in notary specialization),

function within an international organization or in diplomacy,

official of State, community, region, province and municipality as well as of public interest organizations,

parliamentary attaché,

member of a ministerial cabinet,

scientific and academic careers.
Even outside of these strictly legal professions, knowledge of the law, the use of rigorous methods of research, analysis and interpretation of applicable standards, as well as the acquisition of argumentation skills, whether written or oral, constitute a considerable set of valuable assets for the accomplishment of all life projects. Many jurists are thus heading towards fields such as journalism, politics, communication, business management, etc.