A spin-off is a company created with knowledge and technology stemming from research. This is how the University directly sends its high-level scientific activities out into society, by ensuring the knowledge and technologies it develops benefit the economy and industry.

ULB has set up a comprehensive programme to support the creation of spin-off companies:
ULB's technology and knowledge transfer unit (ULB-KTO) helps teams find funding to create spin-offs in Wallonia (FIRST Spin-off and maturation funds) and in Brussels (Launch)

Incubators provide support to research teams before the company is actually created, so they can continue refining on their technology or expertise and develop a business model.

The Theodorus investment fund, dedicated specifically to ULB spin-offs.
In addition, ULB helps student entrepreneurs launch startups, including with its StartLab.
ULB spin-offs have been launched in a variety of industries: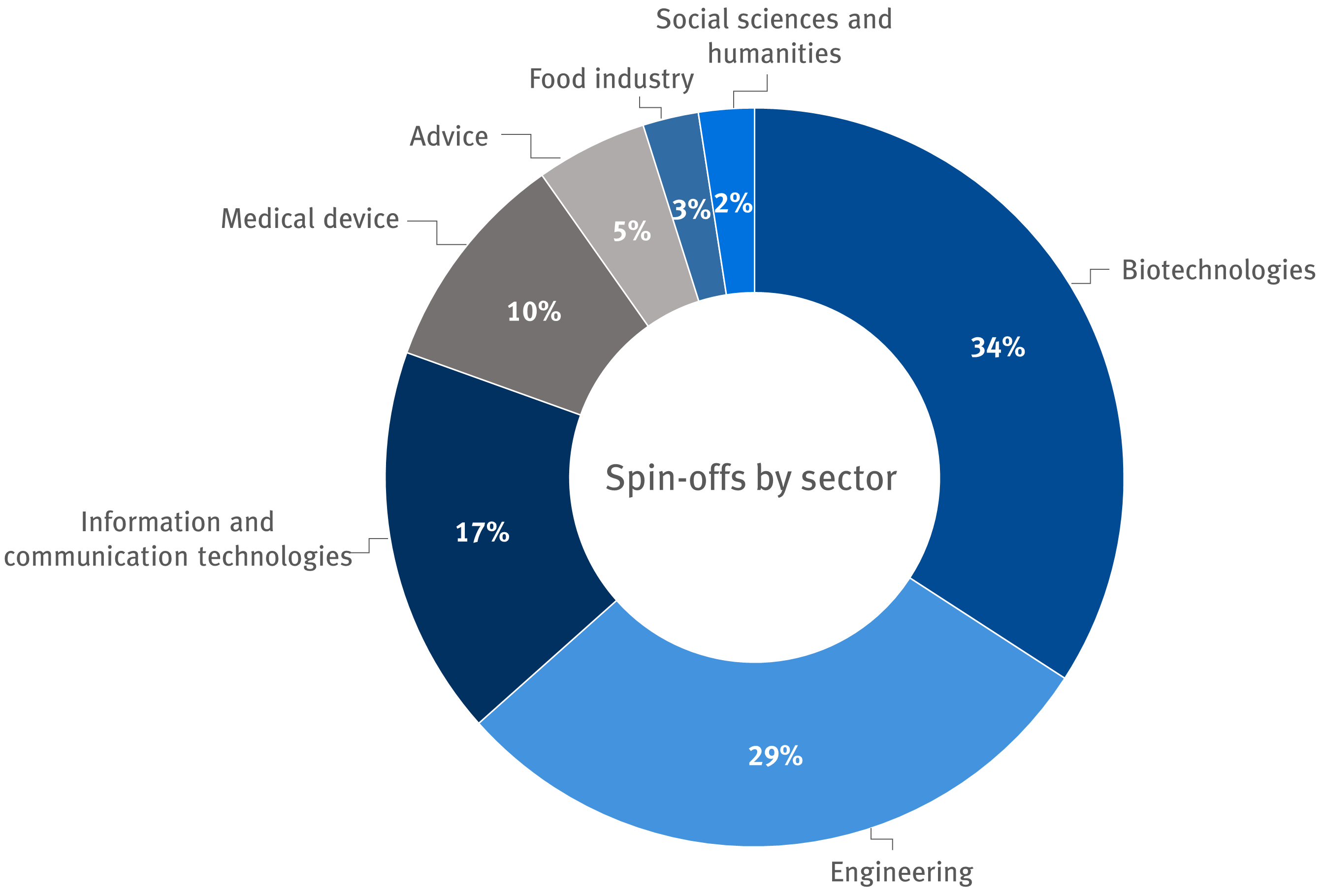 Currently, 40 ULB spin-off companies are active:
Amoobi

Description: Mobile positionning
Year of creation: 2011
Website

Antigon

Description: Optimisation of blood transfusions safety
Year of creation: 2016
Website

ASIT Biotech

Description: Production of devices for the diagnosis and treatment of immune diseases
Year of creation: 1997
Website

A-Ulab

Description: Asbestos analysis
Year of creation: 2012
Website

Bioxodes

Description: Immunology
Year of creation: 2010
Website

Bone therapeutics (Biosenic)

Description: Cellular therapy
Year of creation: 2006
Website

Calyos

Description: Thermal Management Solutions for High Power Density Semiconductors
Year of creation: 2012
Website

DART Consulting

Description: Decision making tool in the logistics field
Year of creation: 2014
Website

Decis

Description: Development of computer applications on data visualization resources ICT optimization
Year of creation: 1992
Website

D-Sight

Description: Support to multicriteria decision aid
Year of creation: 2010
Website

Delphi Genetics (takeover by Catalent)

Description: DNA engineering
Year of creation: 2001
Website

DiverCity

Description: Consulting and research in cultural and religious diversity
Year of creation: 2015
Website

DNA Vision

Description: Molecular biology
Year of creation: 2004
Website

Domobios (Acar'Up)

Description: Development and sale of products aimed at eradicating domestic pests
Year of creation: 2012
Website

EndoTools Therapeutics

Description: Endoscopic devices
Year of creation: 2009
Website

Epics Therapeutics

Description: Development of small molecule drugs targeting RNA epigenetic mechanisms involved in cancer development
Year of creation: 2018
Website

EHP (Euro Heat Pipes)

Description: Thermal and mechanical regulation of spatial devices
Year of creation: 2001
Website

Euroscreen (takeover by Ogeda)

Description: Biopharmacy
Year of creation: 1994
Website

Gepeceron

Description: Development of novel therapeutic approaches for solid cancers and inflammatory diseases. The main focus is presently on small molecules targeting selected G protein-coupled receptors.
Year of creation: 2020

Henogen (takeover by Novasep)

Description: Experimental allergology
Year of creation: 2000
Website
HeartKinetics

Description: A cardiac monitoring system that supports daily treatment
Year of creation: 2019
Website

Human Waves

Description: Services and products in the field of neurotechnology
Year of creation: 2012
Website

InhaTarget Therapeutics

Description : Services and products in the field of respiratory diseases treatment
Année de création : 2019
Site web

Kabandy

Description: To enable construction professionals to deliver building information models using open standards
Year of creation: 2016
Website

Lambda X

Description: Space optics and optics methodology
Year of creation: 1996
Website

LyS Medical

Description: Decision aid system for airways endoscopy
Year of creation: 2018

MasTherCell (takeover by Catalent)

Description: Development of a production system of therapeutic activity cells
Year of creation: 2011
Website

Mentis

Description: Artificial Intelligence
Year of creation: 2005
Website

MHBelgium and MHMadagascar

Description: Sea cucumber aquaculture
Year of creation: 2005

Micromega dynamics

Description: Vibration deadening system
Year of creation: 1999
Website

NeuVasQ Biotechnologies

Description: Development of pharmaceuticals to restore blood-brain barrier function in acute neurological disorders and neurodegenerative diseases.
Year of creation: 2021
Website

Noho.Care

Description: Medical device, Compression therapy, Connected bandage, Lymphedema, IoT, Vascular edema, Cloud et Health Big Data
Year of creation: 2015

Optimal design

Description: Software applications for logistics
Year of creation: 1997
Website

Ovizio

Description: Water quality assessment through holographic microscopy
Year of creation: 2009
Website

REHAL-IT

Description:Therapeutic virtual reality softwares for the assessment and rehabilitation of patients with cognitive disorders
Year of creation: 2022
Site web

Santero Therapeutics

Description : Antibiotics discovery - development of new generations of drugs to fight multiple resistant pathogens
Year of creation: 2021
Website

Secoya

Description : Support to enhanced manufacturing of (bio)pharmaceutical compounds
Year of creation: 2019
Website

Snellium

Description: Snellium specializes in optical metrology and proposes measurements methods and devices on transparent and specular objects, mainly car glasses
Year of creation: 2021
Website

Spectralys Biotech

Description: Provider for innovative analytical services based on infrared spectroscopy
Year of creation: 2018
Website

X4C

Description: Using Calixarenes for industrial coatings
Year of creation: 2016
Website
Discover our digital catalogue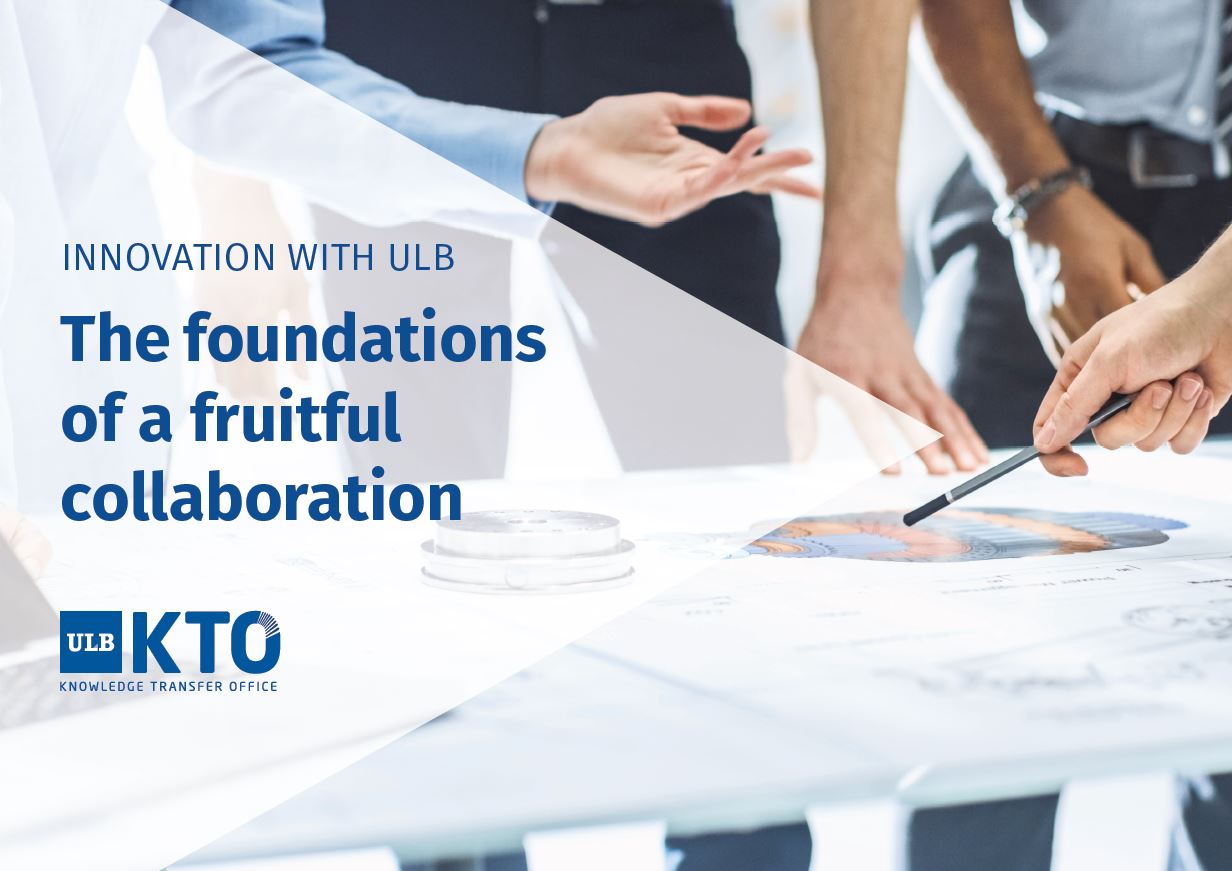 Contact:
Industry unit ULB-KTO
spin-off@ulb.be
Follow ULB-KTO on LinkedIn
See the ULB-KTO team
Updated on September 5, 2023