International
University cooperation
Cooperative activities are a full part of ULB's internationalisation. In recent years they have represented one of the academic authorities' priorities.
In cooperation for development, the International Relations Department:
Offers professional assistance in putting together projects
Provides ULB's participation in the activities of University Development Committee CCD
Offers different types of finance and in particular grants for doctoral students from the South
Organises each year a "Cooperation Day"
Is responsible for the reception of students on grants from the South
Manages a "cooperation chair" to welcome for a period of one month someone from a university in the South
Our work seeks in particular to strengthen the human, scientific and management resources of partner universities in the South. This is always directly with academic university partners, without any direct contact with the political regimes in those countries in which we work.ULB's long tradition of cooperation in development is also excellently illustrated by its main NGO, ULB Coopération , which works in the medical field in Africa.
Our projects
ULB implement development cooperation projects, mostly in African countries. These initiatives covers health, medicine, urban planning, architecture, ecology, environment, biodiversity or sciences.
Cooperation Day
Each year, the Cooperation Day highlights the itinitiatives of researchers of ULB, and spotlights students and researchers from the South
Fellowship for doctoral students from developing countries
ULB's cooperation fellowships fund grant doctoral fellowships to students from developing countries in order to allow them to realize their doctorat thesis in an ULB's research unit.
ULB Coopération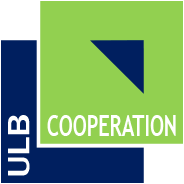 Through a NGO, ULB is an actor of North-South cooperation by implementing numerous development projects.
ULB Coopération aims to contribute to the development of a strong civil society, the creation of a responsible private sector, the ensure the respect of fundamental rights and the development of fair international relations.