Studying at ULB
Bachelor in Translation and Interpretation
Bachelor in Translation and Interpretation
This formation is taught in french.
The 2020-2021 programme is subject to change. It is provided for information purposes only.
Accéder aux sections de la fiche
Call to actions
Programme title

Bachelor in Translation and Interpretation

Programme mnemonic

BA-TRAD

Programme organised by

Faculty of Letters, Translation and Communication

Degree type

Bachelors

Tier

1th cycle

Field and branch of study

Human and social sciences/Languages and literature

Schedule type

Languages of instruction

french

Theoretical programme duration

3 years

Campus

Uccle

Category / Topic

Human and social sciences - Languages and literature

Jury President

Xavier LUFFIN

Jury Secretary

Patricia DE COCQ and Sonja JANSSENS
Details
General information
Degree type
Bacheliers
Theoretical programme duration
3 years
Learning language(s)
french
Schedule type
Daytime
Campus
Uccle
Category(ies) - Topic(s)
Human and social sciences - Languages and literature
Organising faculty(s) and university(ies)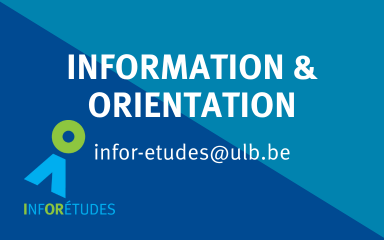 Student support
Our Academic Guidance Service offers a range of practical measures designed to help students succeed in their first year at university.
Undertaking higher-education studies may entail significant changes in students' lives. Our Academic Guidance Service was called into life to help those in need of advice.
The Academic Guidance Service can
help students transition more easily from secondary to higher-education;

coordinate different academic guidance initiatives in accordance with the requirements set by teachers;

offer personalised tutoring or coaching sessions to identify problems, suggest possible solutions for any learning difficulty or problems related to the often uneasy transition from secondary to higher education;

make referrals to other programmes or help students to spread their studies out overtime to better suit their personal needs.
CONTACT
Mme Claudine POTTIER
T 02 720 62 00
Succeed in your studies
ULB offers a number of activities and resources that can help you develop a successful strategy before or during your studies.
You can make the transition to higher education easier by attending preparatory courses, summer classes, and information and orientation sessions, even before you start your studies at ULB.
During your studies, many people at ULB are there specifically to help you succeed: support staff in each faculty, (inter-)faculty guidance counsellors, tutors, and experts in academic methodology.
Presentation
The Bachelors in Translation and Interpretation aims to develop advanced linguistic skills that enable students to accurately transfer a written or oral message from one language into another, while taking into account the specific characteristics of each language.
To this end, the first cycle leading up the bachelor's degree (totalling 180 credits), assists students in acquiring or refining their skills in two foreign languages but also in developing expert French language skills.
nt-size: 11pt; font-family: 'Calibri','sans-serif'; mso-ansi-language: EN-GB; mso-fareast-language: EN-US;" lang="EN-GB">Core knowledge courses covering a number of fields allow future translators to acquire the necessary general knowledge to translate not only a wide range of text genres but also increasingly specialised texts.
Upon successful completion of the Bachelors, students may access either the Masters in Translation or the Masters in Interpretation. Professional translators and interpreters will share their knowledge and experience with the students. In addition, students will learn to use translation tools and individually participate in an internship.
Classes are taught to small-sized groups with a focus on incremental learning. Most learning activities are practice–based. Regular formative evaluations are carried out to determine that the intended learning outcomes have been achieved.
Mastering multiple languages has become a key skill as a result of increasing globalisation, international communication, opening frontiers and the emergence of a vast array of new means of communication.
In order to successfully exchange information aiming to promote understanding between communities and to advance their economic, cultural and/or social development, these languages have to be thoroughly mastered. This principle also applies also to other contexts such as organisations, administrations or businesses.
The Translation and Interpretation Department at ISTI-COOREMANS offers a programme that will familiarise students with the realities of the job market. Indeed, thanks to close collaboration between researchers and professionals in the field, students learn early on in the programme to conduct themselves in a professional manner and to critically analyse and reflect on their work.
Upon graduation, students master two foreign languages in addition to French and have acquired comprehensive cultural knowledge preparing them to access other specialised programmes. The programme will also prepare students and provide them with the necessary skills to take their first steps in an ever-changing job market. To complete Block 2 of the Master's programme, students are required to undertake internships that will to provide them with their first working experience.
Once they have won the 120 credits offered during their bachelor's programme in Translation and Interpretation, students are also required to take part in a student exchange programme for the duration of one semester. In practice, this means that students will be requested to choose from a list of foreign universities to study abroad. For students whose language combination includes Dutch, the Erasmus Belgica scheme allows them to do this in Flanders.
The Translation and Interpretation Department at ISTI-COOREMANS has student exchange contracts with about 150 university colleges and universities in Europe and worldwide.
Programme
The Bachelor's Degree in Translation and Interpretation covers three core strands: foreign languages, French and general knowledge. All three enable students to refine their language skills and increase their domain knowledge in order to prepare for the Master's programme in Translation or Interpretation.
The programme is designed to help students acquire advanced language skills in two foreign languages. Its courses aim to enhance students' domain knowledge through the study of a range of fields including law, economics, economic geography, history, philosophy, sociology, general science, computer science and international politics.
To conclude the first cycle, students can also further develop their language skills and gain a better insight into the cultures studied by taking part in a period of study abroad.
The programme prepares students to translate and interpret in a variety of professional contexts.
There are 18 language combinations to choose from
Arabic-Spanish

English-Arabic

English-Chinese *

English-Spanish

English-Italian

English-Dutch

English-Russian

English-Turkish * **

German-English

German-Spanish

German-Italian

German-Dutch

German-Russian

Italian-Dutch

Italian-Russian

Spanish-Italian

Spanish-Dutch

Spanish-Russian
*This language combination only gives access to the MA in Translation and not to the MA in Interpretation.
**Turkish classes are taught at the Louvain School of Translation and Interpreting.
What's next ?
Prospects
Upon successful completion of the bachelor's and master's programmes, graduates will be qualified to work as translators, but will also be able to use their intercultural and writing skills in a wider range of sectors.
Depending in their areas of expertise, graduates will be qualified to work in domains such as economics, finances, science, technology, law and administration.
They can also find employment in the field of media translation (sub-titling, surtitling, voice over), project management, website and video game localization, and terminology.
They are able to translate philosophical or literary texts but also art books and museum or exhibition catalogues.