Studying at ULB
Master in Geology
Master in Geology
This formation is taught in french.
Accéder aux sections de la fiche
Call to actions
Programme title

Master in Geology

Programme mnemonic

MA-GEOL

Programme organised by

Degree type

Masters 120 credits

Tier

2nd cycle

Field and branch of study

Sciences and technics/Sciences

Schedule type

Languages of instruction

french

Theoretical programme duration

2 years

Campus

Plaine/Solbosch

Category / Topic

Sciences and technics - Sciences

Jury President

Nadine MATTIELLI

Jury Secretary

Vinciane DEBAILLE
Contact e-mail

Contact telephone

Additional information
Details
General information
Degree type
Masters 120 crédits
Theoretical programme duration
2 years
Learning language(s)
french
Schedule type
Daytime
Campus
Plaine/Solbosch
Category(ies) - Topic(s)
Sciences and technics - Sciences
Organising faculty(s) and university(ies)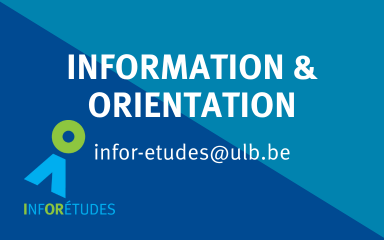 Succeed in your studies
ULB offers a number of activities and resources that can help you develop a successful strategy before or during your studies.
You can make the transition to higher education easier by attending preparatory courses, summer classes, and information and orientation sessions, even before you start your studies at ULB.
During your studies, many people at ULB are there specifically to help you succeed: support staff in each faculty, (inter-)faculty guidance counsellors, tutors, and experts in academic methodology.
Presentation
Today, more than ever, geologists are geoscientists. Their multi-disciplinary background with earth and environmental sciences allows them to tackle complex issues associated with the impact of human activity on our planet. They are, and will be in the future, key players in the sustainable development of our societies. In addition to providing solid training on the theoretical, practical, and analytical tools necessary for a modern geologist, our Master in Geology gives students the opportunity to choose between two in-depth specialisations: geochemistry-geology or geochemistry-environment. Our curriculum provides students with strong professional skills that could lead them to scientific research, but also to careers in the private sector, e.g. in environmental consulting, or in the exploration, exploitation, and management of natural resources.
Student apply to go on an Erasmus exchange period or a work placement in another university, whether a close ULB partner or a member of an international networks that ULB is part of.
Royal Museum for Central Africa (MRAC), Royal Observatory of Belgium and Royal Belgian Institute of Natural Sciences.
The Master in Geology is based on contributions from recognised experts in the fields of volcanology; isotope geochemistry and cosmochemistry; biogeochemistry and chemical oceanography; sedimentology; mineral deposits; and global modelling of the Earth system. In addition, experts from the Royal Institute of Natural Sciences of Belgium, the Royal Museum for Central Africa (RMCA), and the Royal Observatory of Belgium take an active part in teaching activities, as part of the 'Pole Géosciences de Bruxelles'.
ces de Bruxelles".
What's next ?
Prospects
Environmental consulting, mineral and oil exploration, research, civil engineering, etc.
Geologists can be involved in local, regional, or even global issues, while their background can lead them to positions in the public or private sectors. The technical skills acquired in the Master of Geology are highly valued in industrial sectors that deal with geomaterials (civil engineering, cement, etc.) and geological resources (water, mining, oil, etc.). An increasing number of opportunities also exist in the public and non-governmental sector related to the management of natural hazards, land use planning, and the decontamination of soils and aquifers.