ULB & you
Accommodation for Erasmus
Private accommodation can sometimes involve scams. Beware of attractive properties with (too) attractive rents, usually below market prices. Do not send money when in doubt, and beware of emergency situations where prospective tenants are pressured to pay quickly.
Never provide your RIB, bank statement, etc.

Partner residences available for the second quarter
Managed by companies, but with the same criteria as the ULB properties, for cost, comfort and communal life, the partner residences are spread throughout the city. Reservations can be made directly with the managers of these residences. Their contact details and descriptions can be found on their residence card, which you will find below. Please note that some of these residences sometimes increase their rates for stays of 5 months.

Quartier Général Residence
Bru Upkot Residence
365 Residence
KVS I Residence
Woodskot Residence
Brusello XL Residence
Studeopolis Residence
Platforms in the private sector specialising in Erasmus stays


To book your accommodation in Brussels before you arrive, the Université Libre de Bruxelles recommends its partner platform Studapart. Get access to hundreds of exclusive offers for periods of 1 to 24 months close to the campuses and all over Brussels: studio flats, shared flats, rooms in private homes, etc. Benefit from personalised support throughout your rental!

3 steps:
1) Register,
2) Apply by writing a message to the landlord,
3) Book online by paying your first month's rent and the platform fees.

Accommodation offered exclusively to ULB students
Verified adverts and secure payment, protection in the event of a problem with the booking
Simplified rental file & 100% online procedures

Go to housing.ulb.be.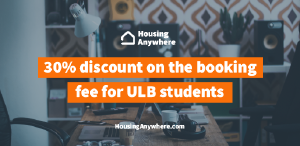 To book your accommodation in Brussels before your arrival, Université Libre de Bruxelles recommends HousingAnywhere, the international housing platform for mobile talents. Through HousingAnywhere you can safely book your new room, offered by verified private landlords and by outgoing students.
To receive a 30% discount on the booking fee, a Université Libre de Bruxelles VIP profile and priority access to the listings in Trento, sign up here: https://housinganywhere.com/Brussels--Belgium/université-libre-de-bruxelles/sign-up
NB. First you will have to pay the entire price and then email support@housinganywhere.com to have that amount back.

You can find information about finding your new place on the how it works page. Do you need more information or have a specific question? Send an email to vip@housinganywhere.com.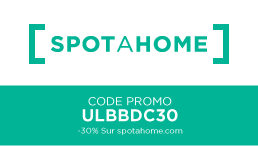 Spotahome was founded in 2014 with the mission of reinventing real estate. Today, we are one of Europe's leading online platforms specialising in mid to long term furnished accommodation. Spotahome allows you to rent verified homes online from anywhere in the world in 100 cities, for Brussels we currently offer more than 2700 accommodation options saving you time, energy and money.xBooking your new home on Spotahome is 100% safe and scam-free thanks to our Fraud Protection Booking System: As an extra security step, your first payment is made through Spotahome. We will transfer this money to the landlord 24 hours after you move in, unless you contact us with a problem. Students from the Université Libre de Bruxelles can benefit from a 30% discount on our service fee with the promo code ULBBDC30
For more information, please contact partners@spotahome.com





"Flexible living. Monthly stays. Anywhere." - Renting with Homelike can secure your accommodation, literally overnight. Select desired move-in and move-out dates, and submit a free booking request for a desired room or an apartment. After confirmation, choose one of the payment methods, and confirm your booking by paying the first month's rent and a possible deposit. That's it! You are ready to move in on your desired date! Start here: Brussels: Rooms & Apartments monthly rentals






ERASMUSU is the largest students community in Europe. You will be able to book verified accommodation through a safe system, not only in Brussels but also all around the world if you are planning to study abroad. You can also look up information about different cities and universities, read about other travellers' experiences, check out destinations' evaluations, find job and internship offers. As a student from ULB, you will have a discount of the 30% on the booking fee. You just have to use the promo-code ULBRUX30 entering through this link. If you are looking for an accommodation and need some help, write to ulbruxelles@erasmusu.com or fill in this form. If you have accommodation to offer click here.





Housease offers a service that allows its users to book medium and long-term accommodation online. The minimum booking period is 3 months, so it is ideal for researchers looking for a short term accommodation.

Housease offers a 30% Discount for people coming from ULB. You only have to write in your profile description that you come through ULB and to present the discount code: ULB30.

For more information, you can contact Anton Draghici at bookings@housease.be



Erasmus Play is a student housing search engine to find accommodation across Europe. It allows you to compare all available accommodation quickly and easily. In addition, you will be able to book in total safety, as all the accommodations are 100% verified. The booking process is very simple:
- Select your destination and dates.
- Compare all available accommodation.
- Click and book safely and securely.
There is a wide variety of destinations: Madrid, Milan, Paris, Porto, Berlin, Florence, Bologna, Lisbon, Rome, London, Munich, Frankfurt, Barcelona, Vienna, Helsinki, Budapest, Amsterdam, Stockholm and so much more!






Nestpick is the biggest meta-search engine for furnished mid-to-long term apartment rentals. On Nestpick you can browse thousands of listings for apartments, rooms and student accommodation for rent in the main European cities. Nestpick is free to use and partners only with vetted providers. Nestpick makes your search easy and gives you access to the biggest database of apartment listings.
The guest rooms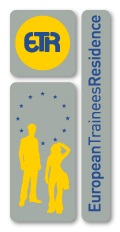 Foyer Européen Bruxellois :
Address: Rue Traversière 17, 1210 Bruxelles
Contact :etr@chab.be - 00 32 2 203 38 14
Website : http://www.etr-brussels.be/

The youth hostels

Auberge des 3 fontaines :
Address: Chaussée de Wavre 2057, 1160 Bruxelles
Contact: contact@auberge3fontaines.be - 00 32 2 672 22 60
Website



Auberge de jeunesse Génération Europe :
Address: Rue de l'éléphant 4, 1080 Bruxelles
Contact: brussels.europe@lesaubergesdejeunesse.be - 00 32 2 410 38 58
Website


Auberge de jeunesse Jacques Brel :
Address: Rue de la Sablonnière 30, 1000 Brussels
Contact: brussels.brel@hostelbrussels.be - 0032 2 218 01 87
Website



Sleep Well / Espace du Marais asbl:
Address: Rue du Damier 23, 1000 Bruxelles
Tel : 00 32 2 218 50 50 - Fax : 00 32 2 218 13 13
Website



" Vincent Van Gogh Chab " Center:
Address: Rue Traversière 8, 1210 Bruxelles
Contact: info@chab.be - 0032 2 217 01 58
Website

Useful information

Maps of towns and streets
https://fr-be.mappy.com/

Districts surrounding the Solbosch/Plaine campus
IXELLES - AUDERGHEM - ETTERBEEK - FOREST - UCCLE - WATERMAEL- BOITSFORT - SAINT-GILLES - SCHAERBEEK - BRUXELLES (easily accessible by public transport).

Districts surrounding the Erasme campus
ANDERLECHT - DILBEEK - SINT-PIETERS-LEEUW – LAEKEN

Public Transport company in Brussels (STIB)
www.stib.be

Legal help and advice
If you are looking for support for legal advice, you can contact the ASBL Quid. This is a specific platform of the university that can answer students' legal questions. You can contact the people in charge by email at quid.ulb@gmail.com.

In the event of a dispute or problem between landlord and tenant, you can contact the local mediation service of the commune of Ixelles, which intervenes with people who are in conflict or experiencing relational difficulties and who wish to find peace. In this context, they are regularly in contact with students or landlords who wish to resolve problems related to housing, rents, the state of the building, rental guarantees, etc.
Their offices are located in the former Justice of the Peace building, 28 rue Alphonse De Witte, 1050 Ixelles. Their e-mail address is mediationlocale@ixelles.brussels and their telephone numbers are 02 515 73 21 - 02 515 73 22 - 02 515 73 23.