Research project DIGICOLJUST (BRAIN-be program)
Colonial Violence, Subaltern Agency and Shared Archival Heritage: A Digital Platform of Colonial Judiciary Sources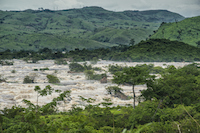 DIGICOLJUST is a digitisation and research programme.
The project is based on a little-known archive collection of fundamental importance for the history of colonial violence and African agency under Belgian colonialism: the trial record archives of the military courts in the Independent State of Congo (1885-1908) and the Belgian Congo (1908-1960).
At the intersection of heritage sciences, digital humanities and scientific expertise, DIGICOLJUST aims to make an important part of this archive collection accessible to researchers and citizens, as well as exploring new historical questions about colonial repression.
The DIGICOLJUST blog will follow the development of the project and the issues it raises.
Coordinator :
AGR-ARA
Promotors :
VUB,
Université libre de Bruxelles - Pieter Lagrou, Amandine Lauro - Faculté de Philosophie et Sciences sociales.
Web site
Dates
Created on
January 27, 2021