EOS research project "Pyramids and Progress"
Pyramids and Progress: Belgian expansionism and the making of Egyptology, 1830-1952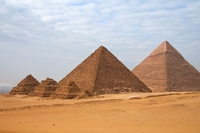 In Belgium, Egyptology emerged later than elsewhere in Europe, but once under steam, it went through a rapid growth in the course of the first half of the 20th century. In the 1930s Brussels was occasionally even referred to as 'the capital of Egyptology'.
The project "Pyramids and Progress" investigates how this remarkable development unfolded within the context of Belgian industrial and political expansionism towards Egypt. The process started almost from the very moment that the Belgian state was created in 1830; at that time, Belgium aspired to become a player on a global scale. What motivated this Belgian interest in Egypt? How did Belgian royalty, politicians, diplomats, industrialists, and intellectuals operate within the expansionist doctrine? And how did the scientific discipline of Egyptology develop in Belgium within this expansionist framework? Researchers will investigate personal, institutional, and commercial networks of the different players, to understand how this led Egyptology to the prominent position it finally acquired in Belgium.
Coordinated by KULeuven, the projects also involves teams from Universiteit Gent,
ULB (Laurent Bavay, Eugène Warmenbol, CReA-Patrimoine, Faculty of Philosophy and Social sciences)
, Musée Royal de Mariemont and Royal Museums of Art and History
Dates
Created on
August 13, 2018