Studying at ULB

sciences
Bachelor in Physics
Bachelor in Physics
Accéder aux sections de la fiche
Call to actions
Programme title

Bachelor in Physics

Programme mnemonic

BA-PHYS

Programme organised by

Degree type

Bachelor

Tier

1th cycle

Field and branch of study

Sciences and technics/Sciences

Schedule type

Languages of instruction

french

Theoretical programme duration

3 years

Campus

Plaine/Solbosch

Category / Topic

Sciences and technics - Sciences

Jury President

Simone NAPOLITANO

Jury Secretary

Ioana Codrina MARIS
Contact e-mail

Contact telephone

Additional information
Details
General information
Degree type
Bachelor
Theoretical programme duration
3 years
Learning language(s)
french
Schedule type
Daytime
Campus
Plaine/Solbosch
Category(ies) - Topic(s)
Sciences and technics - Sciences
Organising faculty(s) and university(ies)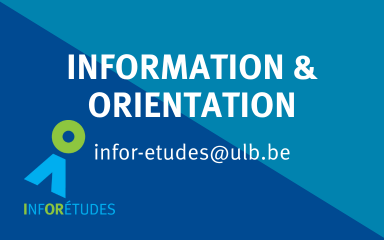 Succeed in your studies
Choose
The information and guidance counsellors at the InfOR-études service will help you choose your studies throughout the year.
Succeed
Take part in preparatory courses or get help to succeed, before or during your studies.
Get help
Apply for financial aid, look for accommodation or a student job, get support for your specific needs.
Presentation
Physicists explore the world and build new knowledge from experimental observations and reasoning. To reach that goal they need to become experts in mathematics and in computer science but they also need to develop their creativity and innovative capacity. It is then that they become capable of establishing new methods and new tools to solve present and future problems rigorously and efficiently.
A degree in physics and the skills gained should render the students well versed in areas ranging from medicine to finance through pure and applied sciences.
Physics is a fascinating field, but one that will require determination and the ability to work autonomously.
From the first year, various teaching methods are used: lectures, practicals (exercises and laboratory), interactive seminars, homework and personal work. Practicals represent about 50% of the time.
Physicists are trained to solve new and complex problems. Right from the first year they have to face experimental and theoretical situations. In addition to the many exercises and laboratory works (~50%), they develop projects during the "Printemps des Sciences" (Bloc 2) and under the supervision of a faculty researcher from one of the teams in the Physics Department (Bloc 3). A visit of the European laboratory of particle physics, CERN, in Geneva, is organized in Bloc 3.
ULB isthe only complete university located in the capital of Europe. Almost one third of the students are foreigners and this very valuable multi cultural environment favours its international relationships.
The ULB Physics Department has several research groups of international reputation having obtained scientific awards, some being very prestigious. It also hosts the worldwide known International Solvay Institutes for Physics and Chemistry.
In the 1st year each student may be chaperoned by older students and is entitled to individual guidance in physics, chemistry and mathematics. Each student has access to online exercises on the "Virtual University".
Facilities at your disposal:
general physics laboratories and leading-edge research laboratories.

the ULB physics "Experimentarium" : a museum of experiments and also an interactive, constantly evolving, laboratory.

study rooms.

computer rooms.

libraries.

online courses and practicals on the « Virtual University ».
Exchange agreements, from 6 months to one year, with other universities in Belgium and abroad have been set up for students from bloc 3 onwards (optional). Courses taken in partner universities are officially recognized by ULB at the end of the BA.
Programme
At ULB, an emphasis is put on understanding the scientific method and students are well prepared for careers in both pure and applied research. Teaching follows the most recent research results.
During the three first years (BA), students receive the necessary basic education in mathematics (32%), physics (51%) and chemistry (6%). This is complemented by English (3%), computer science (5%) and some optional subjects (3%), aiming to either broaden the students' scientific culture or to increase their knowledge of English. An ability to take initiative is very important and will be exercised both when it comes to your individual work or to placement within a research team in the physics department, per your choice.
The various topics covered are:
Classical and 20th century physics

Quantum mechanics

Statistical and non-linear physics

Astronomy and astrophysics

Fundamental interactions and materials physics
What's next ?
Prospects
If you go on to do a Master in Physics, you have the option of working in the following areas:
Pure research (physics, biophysics, geophysics, astrophysics).

Applied research (physics, nuclear medicine, image reconstruction, materials science, meteorology, telecommunications, energy production).

Research and Development (various sectors of engineering, computer science, actuaries).

Teaching (physics, mathematics, computer science).

Consultancy.
Due to their analytical problem solving skills, physicists with a master's degree are very much in demand.