Studying at ULB

phisoc
Bachelor in Sociology and Anthropology
Bachelor in Sociology and Anthropology
The 2022-2023 programme is subject to change. It is provided for information purposes only.
Accéder aux sections de la fiche
Call to actions
Programme title

Bachelor in Sociology and Anthropology

Programme mnemonic

BA-SOCA

Programme organised by

Faculty of Philosophy and Social Sciences

Degree type

Bachelor

Tier

1th cycle

Field and branch of study

Human and social sciences/Political and social sciences

Schedule type

Languages of instruction

french

Theoretical programme duration

3 years

Campus

Solbosch

Category / Topic

Human and social sciences - Political and social sciences

Jury President

Joël Noret

Jury Secretary

Matteo GAGLIOLO
Contact e-mail

Contact telephone
Details
General information
Degree type
Bachelor
Theoretical programme duration
3 years
Learning language(s)
french
Schedule type
Daytime
Campus
Solbosch
Category(ies) - Topic(s)
Human and social sciences - Political and social sciences
Organising faculty(s) and university(ies)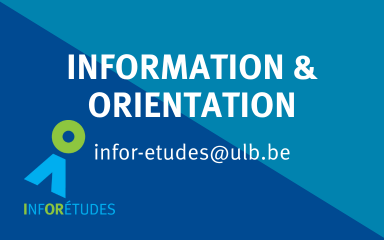 Succeed in your studies
ULB offers a number of activities and resources that can help you develop a successful strategy before or during your studies.
You can make the transition to higher education easier by attending preparatory courses, summer classes, and information and orientation sessions, even before you start your studies at ULB.
During your studies, many people at ULB are there specifically to help you succeed: support staff in each faculty, (inter-)faculty guidance counsellors, tutors, and experts in academic methodology.
Presentation
To provide students with the necessary background for taking an master programme based on the discipline traditions of sociology and anthropology. Students will learn ways of analysing various complex social situations using appropriate research methods.
The bachelier in Sociology and Anthropology provides students with quite an in-depth education in each of these two sister disciplines. The bachelier as a whole provides a good background in languages.
The possibility of exchanges is a priority aspect of any programme. The Department has agreements with more than a hundred partners throughout the world enabling students to spend a semester or a whole year.
The opportunity to do a work placement or fieldwork is provided as of master.
Throughout the year we offer :
Coaching: the department has introduced a coaching programme targeting all students enrolled in the first bachelor year. It is run by a team of assistants. The aim of this coaching is to support students in their first steps at the University and to help them pass their exams :

exercise sessions;

guidance;

the possibility to consult your exam scripts;

and our teachers are available at certain times to speak to you and answer your questions.
You will have at your disposal :
the human sciences library;

several specialist libraries; the Faculty's computer rooms.

Website : www.philoscsoc.ulb.be
The department has exchange agreements with more than a hundred partner universities in Europe and throughout the world.
Programme
As indicated by its title, the bachelier in Sociology and Anthropology provides basic education in these two disciplines. However, given the complexity of the subject matter of these disciplines, we also provide a good background in a range of related disciplines providing complementary perspectives: philosophy, history, human geography, demography, statistics, law, psychology, etc. These disciplines are systematically looked at with regard to their relationships to the social sciences.
During the bachelor period, students follow units progressively building up their knowledge of the theory and methodologies used in sociology and anthropology and specific subjects belonging to these two disciplines. Exercises associated with theoretical thinking and fieldwork are organised during the first year. The intention of this programme is to give priority to learning the use of both quantitative and qualitative methodologies in social sciences.
Last but not least, language lessons are provided throughout the programme.
What's next ?
Prospects
A whole range of professional careers in various sectors:
Social services (social security organisations, family planning centres, welfare centres, etc.)

Health, safety, education

The civil service in general

Training

Public relations

Voluntary organisations

Trade unions

Consultancy

National and international project-funding institutions (European Commission, World Bank, etc.)

Polling organisations

Teaching

Research centres
Finally, you can also go into research.
By adding a master in sociology or anthropology to their bachelier, the following occupations are open to students:
University-level social worker

International aid / development work

Team leader/organiser in the non-profit sector or in an NGO

Secondary school teacher / university lecturer<
Journalist

Civil service occupations

Consultant

Manager in the private sector (communications, public relations, etc.)

Researcher in anthropology or sociology