Studying at ULB

fcschs
Executive Master in Resilient and Carbon Neutral Cities
Executive Master in Resilient and Carbon Neutral Cities
Accéder aux sections de la fiche
Call to actions
Programme title

Executive Master in Resilient and Carbon Neutral Cities

Programme mnemonic

FC-755

Programme organised by

Centre de Formation continue en Sciences humaines et sociales
Faculty of Architecture La Cambre Horta

Title type

formation continue

Field and branch of study

Sciences and technics/Health/other/Architecture and urban planning/Agronomy and bioengineering/Sciences/Engineering sciences/other

Open to returning students

yes

Schedule type

Languages of instruction

english / french

Programme duration

long (more than 15 days)

Campus

Other campus, Online

Category / Topic

Art - Architecture/Sciences and technics - Architecture and urban planning/Sciences and technics - Engineering sciences
Contact e-mail

Contact telephone

Additional information
Details
General information
Title type
formation continue
Programme duration
long (more than 15 days)
Learning language(s)
english / french
Schedule type
Daytime
Campus
Other campus, Online
Category(ies) - Topic(s)
Art - Architecture/Sciences and technics - Architecture and urban planning/Sciences and technics - Engineering sciences
Organising faculty(s) and university(ies)
Open to returning students
yes
Distance learning
yes
Fees
Course fee: 2295 euros
Reduced fee for faculty and alumni of the Faculty of Architecture La Cambre Horta: 1795 euros
Scholarships are available for 15 ULB students : see tab " Financial aid" for more information.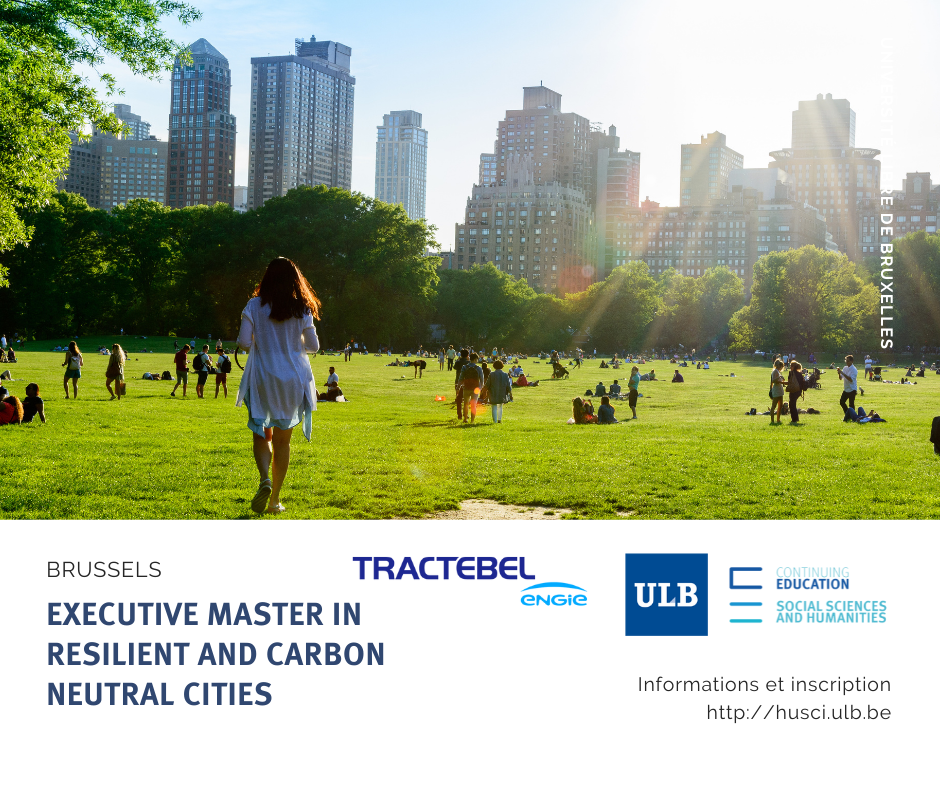 Academic leader and speakers
Academic leader
Didier Van Cutsem

Speakers
Andrea Bortolotti; Jean-Baptiste Debonnaire; Charles-Edouard Delpierre; Charlotte Halpern; Didier Holleaux ; Marek Hudon; Stephan Kampelmann; Thierry Kandjee; Ahmed Khan; Amaury Martinez; Sareh Moosavi; Claire Pelgrims; Didier Vancutsem; Mathias Vansteenwegen
Financial aid (grants, training vouchers, etc.)
Scholarships covering all course fees are available for 15 selected students enrolled at ULB (BA3, Master) who will also be offered an internship opportunity at Engie.
By applying, students commit to the following if they are selected:
- to follow the Executive Master,
- to submit the final assessment,
- to undertake an internship (6 months minimum) at Engie.
Apply before 30 April 2022:
https://forms.office.com/r/gqySrkf6UJ
Online information sessions will be organised soon. If you would like to attend a session or for any other question, please contact husci@ulb.be.
Presentation
While the EU aims to be climate-neutral by 2050 - an objective at the heart of the European Green Deal and in line with the EU's commitment to global climate action under the Paris Agreement -, this Executive Master intends to:
describe and develop the levers towards a carbon-neutral and resilient city. These levers are related to all urban systems through needed material and energy, but also related to actions aiming to a better resilience towards climate change.
design a Climate Carbon-Neutral Strategy allowing to mobilise the entire potentials of the urban system and in particular to reintegrate a dynamic process on the triptical system Social – Environment – Territory.
The Executive Master Courses are delivered by high-level experts from different ULB faculties, but also by external experts from international partner universities and European / global organisations, such as UN-Habitat and the European Commission. The Executive Master is contributing to the New European Bauhaus initiative of the European Commission and is acknowledged by the World Urban Campaign of UN-Habitat.
Calendar & registration
Prerequisites
Admissions are based on applications. Candidates must provide a certificate of completion of a first cycle higher education diploma or proceed to a VAE (validation of acquired experience).
Target audience
This Executive Master is intended for architects, urban planners and landscape architects, graduates with a university-level master's degree, master's students and all professionals holding the titles of architect, engineer-architect, graduate engineer who are concerned with sustainable urban development and wish to improve their skills.
Calendar & registration
Programme
Cities and metropolises worldwide are reinventing themselves in order to adapt to the global climate change challenges. At the beginning of the third Millenium, sustainable development as a response to the climate trends calls to a new, radical transformation of the urban humanity, where everyone needs to act responsibly. A great amount of cities have to rethink their energy resources consumption, as well as their food and material resources management. The City Scan Method reveals a constellation of different, interconnected systems. While checking their system connections, climate challenges demonstrate that their effectiveness depends mostly from their mutual interaction and their synergies – similar to the chemical chain reactions in human metabolism. For future cities, there is the need to think and start the urban mutations from topics connected to the environment: not only planning our urban forms, but also to unleash evolution potentials, tangibles or not.
Content of the academic programm
| | | |
| --- | --- | --- |
| Modules | Methodologies | Learning Acquis |
| Module 1: Introduction to the concept of circular and resilient city | Interactive course and case studies | |
| Session 1: Notions of Urban Resilience and Circular Economy - Notions of Circular and carbon-neutral Solutions - Sustainable territorial development | online session with topic presentation and interactive discussion - keynote presentations | Urban Resilience and carbon-neutral cities are recent forward looking urban trends - this session will introduce, identify and describe the notions of resilience and circular economy at the urban and territorial level. It will include keynote presentations from EU Commission and UN-Habitat experts |
| Session 2: New technologies - Intelligent Cities and Artificial Intelligence - Power of Urban Innovation - City as a System: 360° City Scan methodology | online session with topic presentation and interactive discussion - keynote presentations | Artificial Intelligence and New Technologies are transforming fundamentally our way of living and working, but also the urban systems. This session will describe current trends, compare new technologies and explain how they influence our current and future urban ecosystems. |
| Module 2: Resources and Energy dimensions in urban fabric | Interactive course and case studies | |
| Session 3: Building materials and Energy - Carbon-neutral energy production - Intelligent Energy Blocks and networks | online session with topic presentation and interactive discussion | Energy flows and building materials understanding are key in building a carbon-neutral urban system. This session will describe and explain how to produce carbon-neutral energy, use low carbon materials, and conceptualise Energy Blocks. |
| Session 4: Local Resources and biosourced materials - Energy efficiency approach - Positive Energy districts - Bold City Vision | online session with topic presentation and interactive discussion | How to manage local resources, and how to develop an efficient energy approach? The development of Positive Energy Districts and Bold City Visions are becoming standards in the Resilient City. The session will help to focus on understanding, discussing and comparing local resources and materials |
| Module 3: Carbon-Neutral Approach and Strategies | Interactive course and case studies | |
| Session 5: Carbon performances - Carbon neutrality concept - Carbon-neutral urban fabric | online session with topic presentation and interactive discussion | Carbon-Neutral integrated urban processes are currently guiding urban developments: it is expected that the urban fabric will have to be transformed to low carbon systems in the next 20 years. The session will contribute to identify, understand and apply notions of carbon neutral in the city |
| Session 6: Low-carbon mobility - Concrete application: carbon balance calculation | online session with topic presentation and interactive discussion | The low-carbon mobility and its carbon balance dimension are key towards carbon-neutral cities. How to design and implement low carbon mobility? The session will describe different methods and case studies of successful mobility systems globally. |
| Module 4 : Carbon-neutral methodologies and tools | Interactive course and case studies | |
| Session 7: Masterplanning Energy / Mobility / Built Environment - Urban Climate management | online session with topic presentation and interactive discussion | Planning and transforming built environment together with energy and positive energy systems are the basis for building carbon-neutral cities. The session will describe the management of urban climate and Energy Masterplanning |
| Session 8: Carbon-neutral tools and strategies - Methodological management | online session with topic presentation and interactive discussion | Which tools and strategies are needed to implement carbon-neutral concepts? Which methodologies are essential for its management? The session will identify and describe the notions of carbon-neutral strategies |
| Module 5: Nature-Based Solutions and Green Infrastructure | Interactive course and case studies | |
| Session 9: Vegetalisation systems - Carbon Capture systems - Environmental Management - Natural Resources Management | online session with topic presentation and interactive discussion | Vegetalisation of the urban fabric and urban forests are key to capture carbon emissions and equilibrate the urban climate. How to understand green systems and carbon capture and how to implement environmental management? |
| Session 10: Green Infrastructure development and management - Advanced natural and environmental resource economics | online session with topic presentation and interactive discussion | Green infrastructure has to be further developed in urban systems to make the city more resilient. Nature-based Solutions are today the reference for urban resilience. How urban ecosystem services can be designed and implemented? The session will deliver all information and knowledge to the participants on how to develop green infrastructure approach and urban ecosystem services. |
| Module 6: Implementation and financing the carbon-neutral city | Case study and project work | |
| Session 11: Mutualisation techniques - Governance and stakeholders identification and management | online session with topic presentation and interactive discussion | Resilience can only be achieved with involvement of stakeholders - how to develop sustainable governance and develop co-creation processes? The session will deliver the necessary tools and strategies towards integrated governance approach. |
| Session 12: Financial management of carbon-neutral city - Scientific Communication - PPPs and other financial forms | online session with topic presentation and interactive discussion - keynote session | Carbon-neutral strategies need financial support. How to understand, use and implement financial management of carbon-neutral dimension? The session will deliver some interesting aspects in funding opportunities and solutions. |
| Module 7 : integrative seminar | Participative seminar with project work | Interactive workshop as urban lab |
| Integrative Seminar with stakeholder interaction (Living Lab) | | |
| Module 8 : Master Thesis (TFE) | 60 pages work | |