International
Sustainable travel
Protecting the environment through a sustainable Erasmus!
The Erasmus+ programme is changing and going green in response to environmental challenges. Starting in 2021, it will finance more environmentally friendly modes of mobility.
Erasmus Goes Green aims to increase environmental awareness of mobility and ultimately reduce the carbon footprint of transport-related mobility activities.
Did you know? Air travel is by far the most CO2-emitting mode of transport per passenger-kilometre (20x more than the train). The majority of ULB's CO2 emissions come from the travels of university members, students and employees (45% of the total). Student air travel alone accounts for 12% of ULB's emissions.
Why?

To benefit from a one-off top-up of €50.
To receive up to 4 additional days of scholarship.
To contribute to the Climate Plan adopted by ULB in 2019!

For whom?

All future students with a planned departure next year except those going to Belgium, Switzerland, United Kingdom

How?

After the end of your stay, please send Gloria Cavasin (Europe) or Corinne Nitelet (outside Europe) proof that you have travelled there and back in a sustainable way

Sustainable transport?

Calculate and compare the CO2 content of your different means of transport on Greentripper and EcoPassenger.

Tips for reducing your carbon footprint

Avoid non-essential trips during your stay;
Adopt sustainable behaviour during your stay;
Take time to travel;
Diane's experience
"Hello !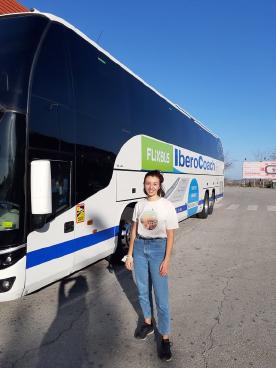 For my transport to my Erasmus destination, I opted for "sustainable" travel. What does this mean? It means taking more sustainable transport than flying: be it train, bus or carpooling.
For my part, I opted for the bus. There are various reasons why I decided to make this kind of journey. On the one hand, for environmental reasons, for which I try to make a minimum commitment, and on the other hand, for purely practical reasons (transport to and from the airport is often long and expensive, waiting time at the airport, limitations on the volume and content of luggage etc.) and of course for financial reasons.
My journey was as follows: I first had to move my kot from Brussels to Lyon, where I am from. I took a Flixbus for about 10 hours. Then the following week, I travelled from Lyon to Malaga by Flixbus as well.
This may come as a surprise, as it was a 26-hour journey, but frankly, once you get into the mood of the journey, it just comes together. Plus, I really felt like I was travelling, not being "teleported" from one place to another in a few hours by plane.
The bus went through the south-west of France (Bordeaux) and then down to the north-west of Spain (Bilbao) and then down to the centre through Burgos, Madrid, Jaén, Granada and finally to Málaga, its terminus.
Finally, the big plus is that you get to travel through a lot of great scenery and often meet other travellers!"
Climate plan