Studying at ULB
Master in Environmental Science and Management with focus Sciences de l'environnement
Master in Environmental Science and Management with focus Sciences de l'environnement
This formation is taught in french.
Accéder aux sections de la fiche
Call to actions
Programme title

Master in Environmental Science and Management with focus Sciences de l'environnement

Programme mnemonic

M-ENVIE

Programme organised by

Degree type

Masters 120 credits

Tier

2nd cycle

Field and branch of study

Sciences and technics/Sciences

Schedule type

Languages of instruction

french

Theoretical programme duration

2 years

Campus

Plaine/Solbosch

Category / Topic

Sciences and technics - Sciences

Jury President

Wouter ACHTEN

Jury Secretary

Frank PATTYN
Contact e-mail

Contact telephone

Additional information
Details
General information
Degree type
Masters 120 crédits
Theoretical programme duration
2 years
Learning language(s)
french
Schedule type
Daytime
Campus
Plaine/Solbosch
Category(ies) - Topic(s)
Sciences and technics - Sciences
Organising faculty(s) and university(ies)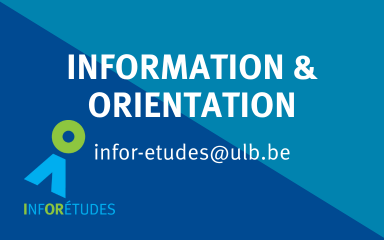 Succeed in your studies
ULB offers a number of activities and resources that can help you develop a successful strategy before or during your studies.
You can make the transition to higher education easier by attending preparatory courses, summer classes, and information and orientation sessions, even before you start your studies at ULB.
During your studies, many people at ULB are there specifically to help you succeed: support staff in each faculty, (inter-)faculty guidance counsellors, tutors, and experts in academic methodology.
Presentation
In order to tackle environmental issues, students will be taught to master the relevant knowledge and tools. They will also learn the skills required to summarise, analyse, and think critically.
The programme is divided into two focuses:
The focus on environmental management is centred on the preservation and enhancement of natural and inhabited environments. It takes into account anthropogenic pressures, from the perspective of environmental.

The focus on environmental science is more specifically directed towards analysis and modelling techniques for our environment. Its goal is to improve the students' understanding of how the environment functions, and to provide support to mitigate and/or solve the growing anthropogenic impact on the atmosphere, hydrosphere, lithosphere, biosphere, and cryosphere.
Teaching is provided through lectures classes, but also seminars, group projects, and an optional work placement. Some classes include field trips or talks given by external parties, e.g. professionals from the environmental world.
The dissertation is another important aspect of the programme, enabling students to specialise and providing a first 'business card' or key to the professional world. The Master's dissertation can be oriented towards research, or be more operational in nature.
Students who already hold a Master's degree and fulfil the requirements may complete the 120-credit Master in one year, with evening and weekend classes.
Students may complete an exchange programme, in the EU (Erasmus) or abroad.
Programme
This Master programme uses an interdisciplinary approach, relying on both natural and human sciences (ecology, geology, economy, law, etc.). Furthermore, it is structured around environmental domains (water, soil, air, etc.), economic sectors (agriculture, industry, energy, etc.), and environmental issues (climate change, waste, etc.).