Studying at ULB
Master in communication - Event management
Master in communication - Event management
The 2020-2021 programme is subject to change. It is provided for information purposes only.
Accéder aux sections de la fiche
Call to actions
Programme title

Master in communication - Event management

Programme mnemonic

MA-COME

Programme organised by

Faculty of Philosophy and Social Sciences
Haute Ecole Galilée/Institut des Hautes Etudes des Communications Sociales

Degree type

Masters 120 credits

Tier

2nd cycle

Theoretical programme duration

Campus

Other campus/Solbosch

Jury President

Patrick VANDOORNE

Jury Secretary

--
Details
General information
Degree type
Masters 120 crédits
Campus
Other campus/Solbosch
Organising faculty(s) and university(ies)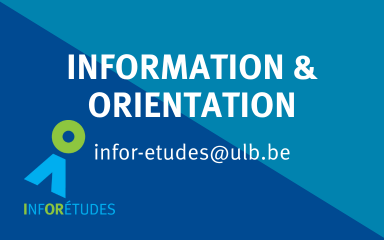 Student support
xxx /usr/cwproducts/tomcatring/wserv4/progtest/catalogue/queries/tools.xqm : Cannot convert empty-sequence() to xs:string: (). , line 3 col 40
Succeed in your studies
ULB offers a number of activities and resources that can help you develop a successful strategy before or during your studies.
You can make the transition to higher education easier by attending preparatory courses, summer classes, and information and orientation sessions, even before you start your studies at ULB.
During your studies, many people at ULB are there specifically to help you succeed: support staff in each faculty, (inter-)faculty guidance counsellors, tutors, and experts in academic methodology.
Presentation
By constantly working in groups, students in the Master Communication – Event management learn to coordinate and even manage a team, while respecting their teammates' ethnic, cultural, and linguistic diversity. In addition, the many practical lab sessions and theoretical courses teach them to solve communication problems and manage organisation projects.
To this end, they will learn to master the specific languages used in the various disciplines of event management such as human resources, risk management and safety, creativity, legal questions, financing and marketing, technical aspects (image, lighting, sound, etc.), logistics, and so on.
Just like they must become proficient in professional speaking and writing, students must become intimately familiar with information and communication technologies.
The Master's degree is delivered jointly by the Haute École Galilée – Institut des Hautes Études des Communications Sociales and the Université Libre de Bruxelles. In relation to the programme's objectives, the two years of the Master are organised around three broad groups of classes that provide essential knowledge for professionals in this field.
Programme
The curriculum of the Master in Communication – Event management was designed to train students coming from a Bachelor programme or from a different Master programme—who can have their previous studies recognised (for up to 60 credits)—, as well as professionals who are already active in event management and wish to develop their skills or reorient their career. Classes are given mostly in French, but not exclusively: this is intended to make the programme accessible to Belgians (from all three regions) and international students.
Year 1
Basics of project management (30 credits), event communication (15 credits), fields of application for event management (15 credits).
Year 2
Final project preparation (10 credits), professional integration activities (30 credits), applications for event management (15 credits), elective courses (5 credits).
What's next ?
Prospects
At the end of the programme, graduates of the Master in Communication – Event management have acquired a solid foundation of theoretical and practical knowledge, as well as high-level professional skills in event management. They can work in any public or private organisation, in the market or non-market sector, at the national or international level, in small, medium, or large companies.