Studying at ULB
Master in Interpretation
Master in Interpretation
This formation is taught in french.
The 2020-2021 programme is subject to change. It is provided for information purposes only.
Accéder aux sections de la fiche
Call to actions
Programme title

Master in Interpretation

Programme mnemonic

MA-INTER

Programme organised by

Faculty of Letters, Translation and Communication

Degree type

Masters 120 credits

Tier

2nd cycle

Field and branch of study

Human and social sciences/Languages and literature

Schedule type

Languages of instruction

french

Theoretical programme duration

2 years

Campus

Uccle

Category / Topic

Human and social sciences - Languages and literature

Jury President

Xavier LUFFIN

Jury Secretaries

Dorothée DUBUISSON and Valérie CRATE
Details
General information
Degree type
Masters 120 crédits
Theoretical programme duration
2 years
Learning language(s)
french
Schedule type
Daytime
Campus
Uccle
Category(ies) - Topic(s)
Human and social sciences - Languages and literature
Organising faculty(s) and university(ies)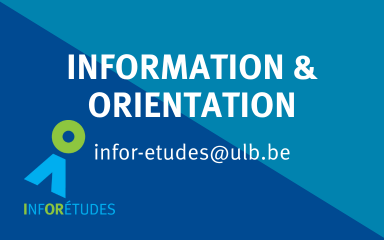 Succeed in your studies
ULB offers a number of activities and resources that can help you develop a successful strategy before or during your studies.
You can make the transition to higher education easier by attending preparatory courses, summer classes, and information and orientation sessions, even before you start your studies at ULB.
During your studies, many people at ULB are there specifically to help you succeed: support staff in each faculty, (inter-)faculty guidance counsellors, tutors, and experts in academic methodology.
Presentation
The Master in Interpretation is designed to assist students who have become proficient in two foreign languages and who excel in oral communication, so they can use these abilities to become conference interpreters in international organisations as well as in the private sector.
From the outset, students will be given practical exercises that rely on their general knowledge, language and communication skills, ability to manage stress, and capacity to work quickly, as well as on the effectiveness of their research techniques.
The final examination takes place before a jury, in the presence of professional interpreters and representatives of international institutions.
Classes are given in seminar rooms with professional equipment. The course concludes with a discussion ofthe practical aspects of a professional interpreter's life.
Students are offered additional instruction in the form of tutorials given by experienced conference interpreters.
Conference interpreters provide interpretation services of the highest quality for clients who require communication of the highest standards.
Such clients include:
Private companies

Associations

Professional conference organisers

Governments

International organisations
Depending on their needs, these clients hire freelance interpreters, in-house interpreters, and sometimes both.
Programme
Courses in the first term of the Master in Interpretation place emphasis on consecutive interpretation and on advanced French language proficiency. During the second term, emphasis will shift to simultaneous interpretation. An introduction to bi-active interpretation will also be given during the second term.
The content to be interpreted will be drawn from current affairs, with a focus on politics, culture, science, and technology. The programme will also cover subjects that are relevant to the students' work placements.
What's next ?
Prospects
With their cross-disciplinary training, their expertise in language and communication, and their knowledge of international issues and contexts, graduates are able to find employment in a wide range of professional sectors.
Freelance interpreter, staff interpreter, or both.